Biking Through Remote Bhutan
"Nothing could be more striking than the pristine, haunting beauty of the landscape of Bhutan, or the atmosphere of peace and sacredness, which pervades the land from end to end." —Tibetan lama Sogyal Rinpoche
Anyone who has traveled there will tell you the most striking thing about Bhutan is how untouched it is. The remote country remains one of the world's most exotic places, a pristine and timeless place of high mountain splendor and culture largely unchnaged by the outside world. This cycling trips of Bhutan encompasses popular highlights and lesser known ones, along with unique activities, with emphasis on ancient customs and personal encounters.
The Kingdom of Druk Yul is a tiny nation located at the foot of the Himalayan Mountains and one that remains the least-touched by western civilization. The country was only opened up to tourism a little over 30 years ago and its previous isolation and low amount of tourists has meant that its culture and traditions have thrived without external influences.

Getting There
Please contact us for international flight assistance and pre- and post-tour hotel and other arrangements. Bangkok is an ideal gateway for the start of this trip.
Bhutan Cycling Tour Itinerary
Bhutan is as spectacular and fascinating off as it on the bike. Much like the other places we organize trips in, we'll plan insightful, immersive and extraordinary experiences that reveal the real Land of the Thunder Dragon, from the people-to-people encounters, activities such as archery, and attending any of the renowned tsechus (festivals) that fall around your dates.
Day 1 | Bangkok to Paro, Bhutan
Upon arrival at the high altitude airport in Paro, Bhutan ("Edge of the Earth"), you will need to go through customs and immigration. Once completed, you will meet your escort who will transfer you to the renowned Sonam Trophel Restaurant in Paro for lunch and orientation. Following this, take a leisurely stroll around downtown Paro, and consider an optional visit to the National Museum of Bhutan located in the watch tower of Ta Dzong. The museum features various Thangka art canvases, Buddhist relics, Paro artifacts, and rare stamps. It's an excellent opportunity to learn about the history and culture of Bhutan, and a perfect place to visit on an acclimation day with no strenuous activities planned.
If time allows, we may also visit Rinpung Dzong, which serves as the seat of provincial administration and a monastic school. Later in the early evening, enjoy a sampling of local cuisine during an orientation dinner with your guide. Before dusk, take a short evening ride along the Pa Chu River to Drugyel Dzong, also known as the Ruined Fort.
Day 2 | Cycling the Paro Valley
Today's morning ride is designed to be easy and help you acclimate to the higher elevation. It will cover all the main highlights of the Paro Valley and include off-the-beaten-track riding through a lesser-known side valley. We will start by sweeping down to the valley floor and following the Pa Chhu river via the traditional covered bridge called Nyamai Zam. We will then pass by the main archery ground, Ugyen Pelri Palace, and into Paro town. After this, we will cycle off-road at Dob Shari alongside the Do Chhu river, passing by several temples and traditional farmhouses while gradually climbing up to the village of Dobshaptoe.
Once we have navigated the narrow lanes, we will return to Paro via a higher track and rejoin the tarmac to pay our respects at Kyichu Lhakhang, one of the oldest temples in Bhutan. It's famous for its magical orange tree that bears fruit all year round. From here, we will continue up the valley, either by road or on tracks, with Taktsang Goemba (Tiger's Nest Monastery) perched above. We will wind through villages, rice paddies, and pine forests to reach the road head at Drukgyel Dzong, built in 1644 by Zabdrung Ngawang Namgyal to control the northern route to Tibet.
Afterward, it's time to enjoy a freewheel ride virtually all the way back to Paro via Rinpung Dzong, also known as the 'Fortress on a Heap of Jewels.' However, the climb back to Uma Paro may be challenging, so our support vehicle will be with us to assist with the last leg if necessary. Today's ride is expected to last between 3 to 7 hours and cover a maximum of 50 kilometers. It will be mostly flat with gradual ascents and descents on about 1/3rd road and 2/3rds graded tracks and trails, making it an easy to moderate level of difficulty. We will have breakfast and lunch during the ride.
Day 3 | Chele La and Haa Valley
Today we start early (by van or bike) for rural Haa Valley by way of the spectacular Chele La Pass which at 3,810 meters (12,500 feet), is the highest road pass in Bhutan. The climb from Paro snakes upwards through blue pine and rhododendron forests for 21 miles (35 kilometers)on an empty road . On a clear day we'll view Bhutan's highest peak, the sacred Mount Jhomolhari, towering in the distance at over 7,000 meters (nearly 24,000 feet).
After reaching the pass we'll pay respect to elders, as is the Bhutanese custom, and admire the surrounding Himalayan views, and if we've ridding for long, break for refreshment before cycling past the hundreds of colorful prayer flags and enjoying a long, winding descent through the pines into the remote and untouched Haa Valley, with a sparse population and very few tourists.
On entering the valley, we'll see the Wangchulo Dzong, and continue on the flat road along the Haa river to the tiny Haa township. In the afternoon, strolling around Haa before dinner.
It's all up and down today and entirely on the main, paved road, and one of the trips most enjoyable rides. We can begin cycling at any point on the 21-mile climb to the Chele La Pass. The entire gradual but challenging 21-mile climb up to Chele La Pass can be added this day with 1,700 meters (5,500 feet) of climbing. The descent from Chele La is 15 miles of sharper switchbacks, flattening on the reaches into the town of Haa.
Itinerary options: for trips of shorter length, we can return to Paro today, looping around 79 kilometers from Paro to view Chuzom (river confluence), then return to Uma Paro by van or return over Chela La and enjoy another long descent (35 kilometers) into Paro.
Day 4 | Haa Valley
The Haa Valley, which was opened to travelers only in 2002, is one of the most unspoiled and untouched places in Bhutan. It offers a glimpse into the country's past and is well worth spending a day exploring its sublime setting.
This morning, we'll take a short ride to visit Tachu Gompa temple and the Lhakhang Karpo monastery, also known as the White Temple. We'll have the opportunity to visit and spend time with the young novice monks here, providing a unique cultural experience
Day 5 | Haa Valley to Thimphu

After breakfast, we will depart for Thimphu, a journey of 46 miles and approximately 1 ½ hours. Along the way, we will pass several sights, including the 15th-century Tamchog Temple, ancient Buddhist stupas, and the 17th-century fortress of Semtokha Dzong. Thimphu, with a population of over 50,000, is a unique capital city. Its distinctive architecture reflects a harmonious blend of tradition and modernity. Despite being the largest city in the country and the seat of government and commerce, it has no traffic lights, and police still direct traffic at intersections.
Once we arrive in Thimphu, we will explore the city's main cultural and historical attractions, including the Institute of Traditional Medicine, School of Traditional Arts and Crafts, Folk Heritage and Textile Museums, and the Jungshina Handmade Paper Factory. Bhutan was the largest supplier of paper in the Himalayan region for printing religious scriptures and prayers in ancient times. We will then drive a short distance to Sangaygang hill, adorned with hundreds of colorful flags and providing a great view over the capital city. From here, we will take a short walk to the National Animal Sanctuary to see the unique Takin, Bhutan's national animal. On the way back, the bus will stop at the National Emporium.
Today's 74-mile (114-kilometer) journey is one of the most beautiful in Bhutan, passing the scenic overlook where the Paro and Thimphu rivers meet and winding through the valley. We will travel by van for the remaining 21 miles (33 kilometers) to the capital after the junction of the rivers. The only significant climb today is a four-mile ascent near mile 36, after the river confluence.
Day 6 | Thimphu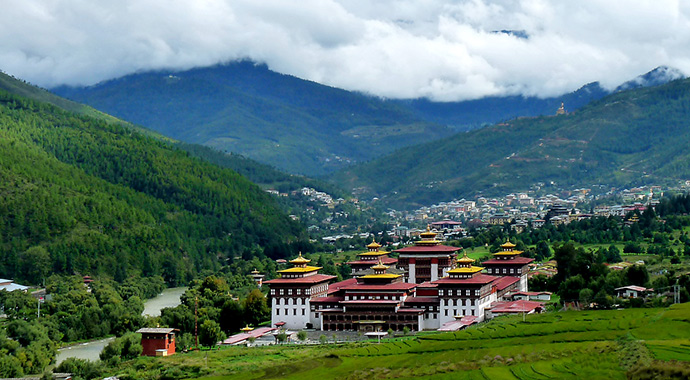 The capital Thimphu itself sprawls up the wooded western hillside of the Wang Chhu and is the center of government, but also religion and commerce. A city with no traffic lights where police still direct traffic at intersections, yet it is the largest city in the country and seat of the government as well as the main hub of commerce. Today, we'll stretch our legs and with a morning hike into the forested foothills of the Thimphu Valley, ascending to Cheri Goemba Monastery (built in 1620), with expansive views over the valley's river, farms, and pine forests. We'll continued hiking through the pines, pausing in local villages and farms along the way and breaking for lunch with a farmer and his family. In the afternoon, easy cycling around the valley until the afternoon, visting the massive Tashichoe Dzong.
In the evening, strolling the alleys of the the capital. In the evening the National Memorial Chorten is a nice place to observe how the locals recite prayers at dusk. The stupa was built in 1974 in memory of the third king of Bhutan. If it is the weekend during your visit, we will explore the local market where locals gather to sell their vegetables, traditional masks, textiles, incense, and jewelry. The market is one of the best place in Bhutan to buy traditional crafts.T here is often an archery competition taking place nearby we can watch.
The first thing that strikes you after arrival in Bhutan is the dress that everyone around is wearing. The colorful dress of the men is called the 'gho' which is something similar to the Scottish kilt. With length up to the knee, and the upper part of the dress wraps around the body and loosened as per the size & fitting. There are many pockets in the inside but its still surprising how much can be stored in these pockets. The women wear the kiras which are full length unstitched garments fastened at the shoulders by two hook like clips called komas and a waistband which is also of a similar cloth. Added to this is a blouse and a jacket which completes the dress. The range of colors is varied and the dress material fine. By law, and custom, every government worker, every teacher and almost everyone holding public office has to wear the traditional dress. Even school uniforms conform to this dress code.
You'll soon no doubt notice that this same uniformity spills over into architecture; every building has to have the basic traditional form. This is mandated by law so there are no "modern" looking buildings. There is a degree of uniformity and tradition that shows through.
Day 7 | Thimphu to Punakha
After breakfast we depart for the Punakha Valley, a distance of fifty miles away, climbing up over over the 10,300 foot (3,139 meter) Dochu La Pass. Climbing out of Thimphu valley we'll view Semtokha Dzong the giant Buddha atop the Kuensel Phodrang hill on the opposite side of the valley. If it's a clear day, the whole range of inner Himalayan peaks can be vseen, including the highest unclimbed mountain in the world, Gangkhar Puensum at 7,541 meters.
As we travel through Dochu La, the road descends through a thriving forest adorned with magnificent giant magnolias, fields of rhododendrons, and a variety of vibrant flowers in the appropriate season. We'll cross the valleys of Punakha and Wangdue, which offer a haven for bird enthusiasts, before halting our bikes for lunch and exploring a rustic fortress. Afterwards, we'll journey through the Punakha river flats, pass through Wangdue town, and navigate the thick forests of oaks, rhododendrons, and evergreen trees of the Black Mountain Range until we reach Punakha.
Punakha, a delightful town enclosed by snow-capped Himalayan slopes, was the previous capital of Bhutan until 1955. The most famous attraction in the region is the Punakha Dzong, also known as the Druk Pungthang Dechhen Phrodang, or "the palace of great happiness." This fortress-monastery was established in 1637 by Shabdung Nawang Namgyal, strategically located at the convergence of the Po Chhu and Mo Chhu (Father and Mother rivers). It formerly functioned as the government's headquarters and is now home to Je Khempo, the chief abbot of Bhutan, and roughly 1,000 monks during the winter months.
After checking into our lodging and taking a brief rest, we'll embark on an hour-long hike through local farms and villages to the Chimi Lhakhang monastery. The 14th Drukpa hierarch, Ngawang Choegyel, erected this site in 1499 after receiving blessings from the "Divine Madman," Drukpa Kinley. The maverick saint taught Buddhism in unconventional ways, incorporating singing, humor, and outrageous behavior, often with sexual connotations. Despite this, Drukpa Kuenley is one of the most respected and followed saints in Bhutan, and his symbol, the phallus, can be found in various forms within Bhutanese households and eateries. The temple also draws women seeking blessings for children, who will be struck on the head by the presiding Lama with a 10-inch ivory, wood, and bone phallus, as well as the bow and arrow supposedly used by the Divine Madman himself. Following a refreshing tea break at the temple's teahouse, we'll return to town for dinner.
The ride up to Dochu La is gradual through the thick pine forests, and like our ride to Haa Valley, this day is mostly an all up and down, with over 5,000 feet of climbing coming at the beginning of the ride followed by a thrilling descent through the forest.
Day 8 | Punakha to Phobjikha Valley
This morning, we'll visit one of the most exquisite Dzongs in Bhutan, the Punakha Dzong, which is second in age and size only to the iconic Tiger's Nest monastery. The Dzong, also known as "Punthang Dechen Phodrang" or the Palace of Great Bliss, was initially constructed in 1637 by Zhabdrung Ngawang Namgyal as a fortress for war. Today, it is a testament to Bhutanese craftsmanship and art, with stunning examples of intricate designs adorning its walls and interiors. A must-see attraction within the Dzong is the Kuenrey temple, featuring breathtaking giant Buddha statues accompanied by the Guru and Zhabdrung, and a ceiling of hundreds of painted dragons. It is also home to the most captivating paintings of the Buddha's 12 life episodes, known as Zedpa Chuni.
Later, we'll embark on a scenic drive or bike ride through a ten-mile flat riverside road from Punakha to Wangdue, followed by an uphill journey on a tranquil side road leading to the Phobjikha Valley. The valley is a natural wonder, featuring a broad expanse of glacial and alpine landscapes, adorned with rhododendrons, dwarf bamboos, and villages that offer a serene and picturesque rural life experience in Bhutan. The area is also home to the Nyingma tradition of Buddhism's only monastery in western Bhutan and a vital sanctuary for the endangered black-necked cranes that winter here after migrating from Tibet (between August and February).
Upon arrival at the Lawa Pass, we'll descend into the Phobjikha Valley, passing through the charming and remote town of Gantey. In the afternoon, we'll enjoy a leisurely walk through the town and scenic foothills. The ride from Wangdue to Phobjikha spans 46 miles (77 kilometers) and includes a leg-straining uphill climb of 1,500 meters, followed by a gentle descent into Phobjikha.

Day 9 | Phobjikha Valley to Bumthang Valley
After breakfast, we will begin our journey by van or bike, retracing our path for six miles to the Lawa Pass, then making our way steeply up to the Pele Pass at 3,300 meters. From there, we will descend into the Longte Valley and pass by Chendebji Chorten, a stone Buddhist monument, and the small village of Chendebji within the next ten miles before reaching Trongsa. Here, we will take a break for lunch, briefly explore the town, and visit Trongsa Dzong, a fortress that dominates the entire vista of the town.
Trongsa Dzong, initially built in 1648 and later expanded, was the seat of the most powerful governor in the country, with influences that stretched all the way to the east. It was where the first and second Kings ruled the country from.
After lunch, we will cycle approximately forty miles to Bumthang, passing through different ecological regions of immense beauty, such as confers and lush alpine vegetation, affording sublime views that will make the leg-straining 21 miles climb up the Yotong Pass to 3,400 meters worth it. However, if necessary, we can always opt for a van instead.
Bumthang is made up of four valleys - Chumey, Choekhor, Tang, and Ura - and is considered the sacred heart of the country, home to numerous prominent Buddhist temples and monasteries. The valley is bountifully blessed with natural beauty and ancient temples, and is the revered birthplace of many saints. It was where the legendary saint Pema Lingpa was born, to whom the Bhutanese Royalties trace their lineage. Bumthang also holds the distinction of being the first place in Bhutan where Guru Rimpoche brought Buddhism.
Before arriving in Bumthang, we will visit a weaving center in Chumey valley where we can learn about the unique styles of textiles in Bhutan. Bumthang is particularly famous for woolen textiles called Yathra and Mathra.
From Trongsa to Jakar, our destination, is a 46-mile (77-kilometer) journey that includes a grueling 21-mile (33-kilometer) continuous climb up the Yotong Pass, followed by a breathtaking 18-mile (30-kilometer) descent into Bumthang.

Day 10 | Bumthang
Today. biking and trekking in the picturesque Bumthang Valley. Bumthang actually is four valleys that are the heart of both the religious and political history of the country.
Today's itinerary includes a visit to Jakar Dzong, a 26th century fortress monastery that still serves as the local government and monastery. We will then explore Jambey Lhakhang, one of the two 7th century temples in Bhutan, the other being Kyichu in Paro which we will visit later. These two temples are the only surviving ones out of eight commissioned by King Songtsen Gampo of Tibet, who aimed to build 108 temples in Tibet and other Himalayan regions.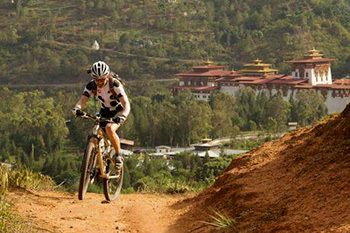 It was at Jambey Lhakhang that Guru Rimpoche gave his first sermon on Tantric Buddhism to King Sendha, the local ruler, his family, and subjects. We will also visit the Kurjey Lhakhang complex, consisting of three temples. The one on the right was built in 1652 on the rock face where Guru meditated in the 8th century. The temple houses the body imprint of the great master, which can be distinctly seen in the rock cave.
In the village across the river from Kurjey Lhakhang, we will visit Tamshing Lhakhang, the seat of Bumthang's famous son, saint Pema Lingpa, who built it himself in 1501. Pema Lingpa was a skilled tantric master and artist who sculpted the main statues and painted the frescoes, many of which remain in their original state.
Another temple worth visiting is Konchosum Lhakhang, suspected to be from the 6th or 7th century, though the current structure dates back to the same period as Tamshing Lhakhang. It is also the site where Terton Pema Lingpa discovered sacred treasures. The temple houses a bell that, when rung, was believed to be heard as far as Lhasa, Tibet.
Day 11 | Jakar to Paro
Today, relaxing this morning, savoring our final moments in the remotest of Bhutan. After, fly back to Paro and arrival, transfer into Paro to stroll the town or rest up before tomorrow's trek to the Tiger's Nest
Day 12 | Takstang (Tiger's Nest) Trek


This morning, we embarked on a hike through pine forests adorned with Spanish moss, leading us to the magnificent Taktsang Palphug Monastery, also known as Tiger's Nest Monastery - an iconic landmark recognized globally.
Perched on a cliff at an altitude of 3,120 meters (10,200 feet), and towering some 700 meters (2,300 feet) above the bottom of Paro valley, this temple is one of the most sacred monasteries in the Himalayas. Its construction dates back to 1692 and legend has it that Padmasambhava (Guru Rinpoche) flew on the back of a tigress to this very spot, bringing Buddhism from Tibet.
The hike to the monastery viewpoint takes approximately an hour, and an additional hour and a half is required to reach the temple itself. Our hike lasted from 7:30 to 11:30 AM. If time and energy levels permit, we may choose to continue our ascent up the mountain to visit other more secluded temples and monasteries. After lunching nearby at the end of our hike, we can either return to the Uma to relax or opt for an additional visit to Drugyel Dzong, situated on the northern side of the valley, and the 8th-century Kyichu temple located nearby.
Optional Extension to Kathmandu & Northern India
Day 13 | Paro to Kathmandu (or return to Bangkok)
Transfer to airport with guide, and after farewells at the gates of Paro airport, depart Paro to Kathmandu or return to Bangkok.
Optional Kathmandu Extension
Cycling in the foothills of Kayhmandu, followed by an afternoon exploring splendid highlights of the town, including busy markets, Patan Durbar Square, Krishna Temple, and driving to the Swayambhu Stupa for stunning views of Kathmandu.

Log jay gay (see you again) and thank you for traveling with us!
Bhutan Trip Details
---
Tour Cost
From $7,590 (per person-double occupancy) Single Accommodation: $1,425
Trip Fees Include
Paro to Bangkok Airlines

Required Visas

Airport transfers

Accommodation

All meals, snacks, bottled water, and tea

Transportation by private coach throughout

Expert local guides for sightseeing

All activities and entrance fees

Tour accompanied by our English speaking tour guide

Gratuities for group activities, meals, hotels, and guides

Taxes (as indicated above)

Pre- and Post-trip travel assistance
Not Included:
International airfare (may be arranged through us)

Meals other than those mentioned above

Beverages aide from tea and water

Excess baggage charges

Items of a personal nature

Travel insurance (ask us for a quote)
Payment Details:
A non-refundable deposit of US$1,000 per person is required to reserve a private tour.Balance of tour cost is due 90 days before departure (read all of our Terms & Conditions). Travel cancellation and delay insurance is highly recommended. Please request a quote at time of booking.
What to Expect
Level of Activity
A good level of fitness is important for this trip as we will be traveling at high altitudes over 8,000 feet with a generous amount of walking and light trekking. This trip is not appropriate for those with heart, respiratory, circulatory disorders, or reduced mobility.
Accommodation
We are staying in clean and comfortable basic guesthouses until reaching Bumthang where there are luxury hotel options including Aman, Uma, and Six Senses Bhutan properties [Visit our hotels page]
Transportation
You will be travelling in a comfortable, spacious, air conditioned van. Road conditions in thisregion of Bhutan are poor and you should expect slow travel with some delays.

Weather
Bhutan's climate is greatly determined by elevation. April is generally warm and sunny with flowers beginning to bloom in the mountains and Fall is also a good time to travel this itinerary.
Currency
Rupees and BTN can be exchanged upon arrival.
Visas
Visas are required for Bhutan which we will assist in processing.

Telecommunications
Bhutan enjoys a robust GSM cell phone access for roaming mobile phones in almost the entire region between Paro and Punakha, but in Eastern Bhutan our reception for both mobile and Internet access will be very limited.
Post-trip
Bhutan combines well with wonderful Myanmar, location of our previous photography trip, or the magnificent temples at Angkor, a short hop from Bangkok.